M

YTHIC

N

ORDEN
T

HE

W

ORLD OF

M

YTHIC

N

ORDEN

Mythic Norden is a vast realm in the far, frozen North. It is the domain of the gods of order: Odin the Allfather and his kin, Thor of Thunder, Freyja of Love, Týr of War, and so on. It is the domain of gods of chaos: Loki and his children, Fenrir the Wolf, Jörmungandr the World Serpent, and so many other abominations. It's the domain of countless other creatures, from dwarves and frost giants to valkyries and einherjar.

Even more, Norden is a land that lives and breathes. Its gods, its vast Myths, are extensions of its will and desire. The true horror of Norden is that its very essence all around you—omnipresent and forever watching.
A Land of Eternal Winter
Norden is a place where the sun never melts away the frost, unless the mortals of a village show sufficient devotion. It strangles the land until its demands are met. When they are not, unrelenting storms roll in.
Even when the mortals capitulate, the spirits that make up the land and sky do not always listen. They love to play with mortals, to hear their wails and cries. This pleases Norden as well, for that makes mortals prostrate harder to its gods, praying for reprieve from the horrors they live every day.
A Land of Endless Danger
In every forest, every plain, and even in the ground underneath, monsters lurk. The mortals of Norden tell stories to their children to keep them from wandering into darkness. These monsters make mortals fear, giving power to this Mythic World. And they keep mortals from journeying far, thus trapping them under Norden's thumb.
A Land So Very Hungry
While Norden's gods don't wish to be unmade, Norden has other plans. It uses its Myths to constantly attack Mythenders. It uses the connection to each Mythender's Mythic Heart to drive dreams into their minds. It does not seek to kill Mythenders, but to take them, to consume them, to turn them into new gods under its will.
And every time a Mythender Falls into Myth, Norden grows stronger. Norden gains a god with vast power, one greater than the god it had before.
This is not Historic Scandinavia
A note for scholars of Norse mythology and medieval Scandinavia: understand that there are a lot of liberties here. A lot. Shamelessly so. After all, I had to turn those stories and histories into something worthy of electric guitars and superfluous umlaut-inspired battles.
The land, people, gods, and monsters of Norden aren't meant to be historic Scandinavia. For one, there are no such thing as Mythenders in reality. The nine worlds hanging on Yggdrasil (the World Tree), the Bifröst (Rainbow Bridge), Valhalla…all of those Norse ideas are treated as caricatures and colorful elements rather than something genuine.
Of course, you can make it as historic if you want. I invite you to do research, if any of these things interest you. But don't take what's in this chapter as a serious attempt at that. This Mythic Norden is a place where you slaughter gods and impose your will, not a place to explore a real culture. The real medieval Scandinavia is not one place, but a vast multitude of places. Many different cultures, languages, values, and beliefs. Many different gods and Myths, and different names for the same ones.
How to use Mythic Norden
Think of Mythic Norden not a place with a sense of geography or realism, but as one formed around iconic concepts and forces of will. It's a collection of sets: places where battles happen and people are met. It's a collection of themes—Mythic worship and oppression, constant danger and fear, harsh and unforgiving weather, and so on.
While you may have thoughts about what the mortals desire and need, when the Mythenders enter a town, all life stands still for them. Some may pledge fealty so as to ask for a boon. Others will defend their gods, knowing they will be annihilated for challenging a Mythender. All will fear them. They know their lives are forever changed, and not for the better.
Even with all that, it's good for the Mythmaster have ideas about what the mortals desired and needed before the Mythenders arrived. It will help you portray mortals as real people.
T

HE

P

EOPLE OF

N

ORDEN

The people of this land are hostages to Myths, given graces and sanctuary when they worship the gods and fear real dangers in the uncharted wilderness. Within Norden are many small, mortal territories, some only as large as the town and farmlands outside, and some that span many cities. But because travel is dangerous, even on well-journeyed roads, the people are mostly isolated from one another.

They war with each other, at times because a patron god wishes his influence might be demonstrated, and at times because men wish the same thing.

They are real people—they love, hate, hope and fear. At least, until a Mythender comes along and strips their free will away.
Names
Male
Aðalbjörn, Ægir, Alfreð, Arnar, Ásmundur, Barði, Berg, Böðvar, Brimi, Drengur, Dúi, Eðvald, Eymundur, Falur, Fróði, Galdur, Geir, Gísli, Gnúpur, Grettir, Guðlaugur, Gunnar, Hafni, Halldór, Hjálmar, Ísar, Júrek, Knút, Kolgrímur, Kormákur, Lárus, Magni, Njáll, Ögri, Óli, Ormur, Örvar, Páll, Rafnar, Reynar, Rúnar, Rúrik, Skíði, Skjöldur, Skúli, Snorri, Sören, Sturla, Tindur, Tór, Týr, Úlfkell, Úlfur, Unnar, Valberg. Vörður, Þengill, Þeyr, Þór, Þorsteinn
Female
Aðalfríður, Æsa, Árdís, Árlaug, Ásla, Astrid, Auðrún, Bára, Brigitta, Dís, Dóra, Drífa, Einhildur, Eyþóra, Finna, Fjóla, Freydís, Fríða, Fura, Gauja, Gauthildur, Glódís, Greta, Guðfríður, Gunnhildur, Hafþóra, Halla, Hilda, Hjálmrún, Hlédís, Hlíf, Iða, Ingdis, Jódís, Júnía, Kára, Lára, Lífdís, Mardís, Mirra, Njála, Oddrún, Ölrún, Ormhildur, Pála, Róshildur, Rúna, Rut, Selka, Snædís, Sóla, Sólveig, Svala, Úlfdís, Úlfrún, Unna, Valdís, Yrsa, Þura
Surnames
Create surnames by adding "-son" or "-dottir" to a parent's name. Thus, Rúnar son of Berg, becomes Rúnar Bergsson and Fjóla, daughter of Brigitta, becomes Fjóla Brigittasdottir.
Credit for name list: Story Games Names Project, Norse list compiled by Jason Morningstar
This Land
The mortals call the land in which they're permitted to dwell Midgard. It means "land of the middle," which reflects that the mortals know they are in the middle of all the forces of Norden, with no hope of escape.
T

HE

M

YTHS OF

N

ORDEN

The Myths of Norden are divided into many camps: the all-powerful and dominant Æsir, the glorious and beneficent Vanir, the vile jötnar, the ever-industrious dwarves, and the many Lesser Myths that roam throughout Midgard.

They all war with each other, as is Norden's will—this makes the mortals fear and obey, giving the Mythic World so much power. And the Myths know that they never truly die at the hands of one another, for the World will take their essence and create new Myths.
Gods of Order
The Æsir are Norden's spirits of order and justice, though a vile and corrupted notion of justice: of knowing one's place and never deviating it, for mortals to forever be subservient. Odin Allfather is the god over all the Æsir and, with his son Thor, rules over all of Norden. They war with the jötnar and other gods of chaos, and force all to bow to their will.
Gods of Life
The Vanir are Norden's spirits of life and growth. Freyja is the most prominent of the Vanir, as the goddess of motherhood and lust. Long ago, the Vanir were their own masters, but they have been dominated by Odin as his kind to serve Norden as they see fit.
Gods of Chaos
Loki and his brood make of the spirits of chaos, of destruction and vicious change. The jötnar serve chaos unwittingly, as they fight and plot against the Æsir and all those who would submit to them, especially Norden's mortals.
A Vast Pantheon
There are many more gods of Norden than listed in the following pages. You can easily make an adventure center around another god instead, including:
Týr, the Æsir God of Law and Justice
Heimdallr, the Whitest God and possessor of vast foreknowledge
Mimir, the beheaded God of Knowledge and Wisdom
Iðunn, the Vanir Goddess of Everlasting Youth
Höðr, the cursed and sorrowful God of Kinslaying
Hel, the Goddess of Death and ruler of Norden's underworld
See Creating Your Own Myths, for advice on turning one of these into a god for Mythenders to fight. And some basic Wikipedia research is enough to get you started.
Ragnarök
Ragnarök is the fabled end times, when the gods will battle and kill one another. It is a time to fear and rejoice over, as it will herald the rebirth of Norden into a stronger Mythic World, for it can sacrifice all of its children at once for ultimate power.
However, the Mythenders have interfered, stealing away these sacrifices and taking Mythic power for their own. What the Mythenders promise is not Ragnarök (though many mortals are fooled into believing such), but a true End where Norden is no more.
S

OME

C

ITIES

&

T

OWNS

These are a few examples of places where mortals dwell in Norden. They are short, to be fleshed out as needed. Use them as-is, twist them to taste, or make your own.
Fort of Thorberge
High atop one of the peaks in a vast mountain range lies a fortress dedicated to Thor. The mountain is bare, save for snow and rocky outcroppings. For generations, the fort has drilled for battle, waiting for the day when Thor spirits them away to be an army against his foes.
There is no farmland here, for nothing will grow. Within the temple, the high priests beseech their god to grant them food, clothing, firewood, and weapons so that they may continue to grow and train.
Storm clouds permeate the sky, with thunder that shows the people Thor's blessing. On those rare days when the sky parts and the sun or stars are visible, the priests know those to be ill omens. Thor will answer no prayers on those days.
Those who die are committed to the Thunder Fields, a large slab of stone that Thor's lightning always strikes. The bodies are turned to ash upon being hit, and the people watch as that ash funnels into the sky, taking those souls with it. Every three years, a dozen warriors are chosen by the high priests to join Thor's army, and eagerly march to the Thunder Fields to join him.
Mortals of Note
Sören, chief among the priests. He is blessed with dominion over lightning, and has personally spoken with Thor over the years. He is the ruler of this fort.
Greta, the Drillmaster Matron. She is 80, but blessed with youth, so that she may continue to train Thor's army and bear strong children. She is pregnant now, but that in no way hinders her skill or stops her from her duty.
Alfreð, a warrior chosen for Thor's company. He is young, recently fathered twins, and is eager to show Thor his prowess with spear and axe.
Unnar, a former warrior recently crippled. He is shunned by others for he now cannot lift a sword and did not have the good sense to die with honor. He continues to ask the high priests to induct him so that he may learn healing arts and be of use to the community.
Village of Norrsundet
Set near cliffs overlooking the raging sea, this village is home to a cult that pays tribute to the Jörmungandr, the world serpent. Once a season, the serpent comes to shed its blood upon this land. Those who are unworthy perish. Those who survive are given strength and health.
The fields in the surrounding lands grow fertile, its soil rich with the poisoned blood. The grain and roots are wild, dangerous, responding only to sorcerous farmers that speak with the land and force it to obey. The wildlife is just as vicious, and the villagers always carry arms so that they may slay beasts driven mad by the serpent's blood. The meat of the boars in this land is prized for its flavor and the power it bestows.
Travelers come here to pay tribute to the Jörmungandr, in hopes to stave off Ragnarök a little longer. Some die, unable to partake in the poisoned food and drink; their bodies are added to the tribute. Some survive, and return to spread influence and corruption.
Even with the poisoned blood in their veins, the people of this place are not cruel or demonic. They are hardened because the land is unkind and because of their duty to Jörmungandr. But they have human hearts, and feel no different than others.
Mortals of Note
Rúrik, a farmer-sorcerer who has recently come ill and unable to tend his crops. This is a sign of Jörmungandr's displeasure, and he will likely not live out the week.
Einhildur, one of the brides of Jörmungandr. She is with child, from the seed of a man mixed with the serpent's blood. She is due any day now, and feels nothing but divine love within.
Lára, a young hunter, whose birth was praised as sign of fortune and good omen. Her arms are of serpent-scale rather than mortal flesh, and she can speak with animals.
Marcus, a monk from the southern lands beyond Norden. He came here to spread the world of Christ, but stays because he is in awe of Jörmungandr's power.
City of Syöteen
The capital of a small kingdom, Syöteen sits at the intersection of two rivers. Its King, Röterik, is a descendant of a great fire jötuun, a noteworthy sorcerer, and a kind leader. Through his guidance, the city has prospered and its denizens know peace and good fortune.
The Twin Rivers see traffic daily, merchants and newsbringers traveling to and from the city's great golden walls. Inside are many small temples to various gods, no one god given great preference over another. The people believe that it is because they revere many gods that they are eternally triumphant.
The Sorrowed Forest borders to the east, where daring hunters seeking dangerous game can make a name for themselves and win marriage rights. The most feared beasts are the bears, twice the size of a man with six massive, powerful limbs.
Nearby is a small quarry, where conquered peoples are sent to work for one year sentences. Once their term is up, they may swear fealty to the King to be granted citizenship and the privilege of working elsewhere in the Kingdom.
Mortals of Note
Röterik, King of Syöteen. As he is very old and frail, he remains in his palace while he sits to judge crimes brought to him. The people praise his kindness and wisdom.
Oddrún, a well-loved merchant. She travels to Syöteen once a week to pedal wares she's acquired from small towns in the north. Her son, Skíði, travels with her to learn the trade.
Valdís, daughter of a minor baron. She hopes that her beloved Galdur will return from the Sorrowed Forest with prize enough to win her hand, but he has been gone for many days.
Ormur, a prisoner who will soon be freed from quarry service. His clan was taken in a very uneven fight, peasants armed with simple weapons against a Syöteen brigade.
S

OME

B

ATTLE

S

ETS

Along with the mortal dwellings in Mythic Norden, there are a number of great places where a battle can happen. Some places are earthly, and others take place in small realms where the Mythic World is strange and beautiful.

As always, use as-is, flesh out, twist them, or take as inspiration for your own.

Each one comes with three vague ideas for a Blight the Myth or Mythenders could create. Naturally, that relies more on their abilities rather than the land around them. But if you're looking for ideas that mesh with the environment, here you go. (Just remember that Myths and Mythenders can also violate the hell of out of wherever they battle, so don't be beholden.)
Earthly Sets
In the Sea
A raging storm makes the sea around you convulse with rage. Waves crash with intent, to drag all into its depths. The sky is starless, the clouds letting only moonlight shine through. The cold, salty spray sticks on your face.
Blight Ideas: thunderous whirlpool, drowned sailors awoken, living lightning in the water.
Snow-Covered Plains
Fresh snow has fallen. Far in the distance: trees, mountains, faint signs of people. But those are miles away. The only things breaking the monotony around you are occasional hills. This place is just asking to be covered red and black with blood and bile.
Blight Ideas: summoning tornados and flash storms, rock becoming living quicksand, snow turning into sea.
Forest of Woe
Tall, green trees shield the ground from the snow. The earth is fresh, its musty aroma sweeping through the breeze. Small animals run in fear around you, fleeing for far-off sanctuary. Only the ravens remain, watching from high above.
Blight Ideas: trees and roots alive with malice, forest spirits summoned, spontaneous fire.
Hot Springs
The ground around you steams, one of the rare places in Norden where Myths of heat dominate over those of frost. Mounds erupt and boiling water spews forth. All around you are the remains of long-dead animals and unwary travelers.
Blight Ideas: water turning to lava as it emerges, creatures forged from rock, raging earth given voice and malicious purpose.
Flooded Plains
Two great rivers cross here, and the gods have chosen them to flood. The mud is knee-deep at the shallowest, and the current is unkind to the weak. Remains of animals, homes, and men float about in this watery graveyard.
Blight Ideas: water freezing and the dead becoming ice creatures, sudden whirlpool, dangerous water creatures summoned.
A Nigh-Bottomless Chasm
The earth is split in twain by a giant's axe, the gash spanning miles across and even farther down. The wind whistles and moans through the chasm, threatening to off-balance those at the edge. One rope bridge stretches the divide, inviting only those bold to cross.
Blight Ideas: ancient fires spew forth, wind given form of hands and arms, chasm grows teeth and becomes a maw.
Mythic Sets
When setting in a Mythic set, you might want to make that set also a Companion weapon—such places are as alive as any Myth. (Shoot, you might even want to make that set the Myth itself. Ending Yggdrasil can be fun!)
Among the Clouds
Gray thunderclouds are solid enough for your footsteps, like walking in a marsh. They move about, crashing into each other and spreading apart, making hills and pitfalls as they roll. Lightning travels through them, the only light here flashing about with inconsistent will.
Blight Ideas: lightning—lots of lightning, clouds given will to grab and drag down, deafening thunder spirits.
Valhalla, Great Hall of the Slain
Golden opulence fills this vast hall. Thousands upon thousands of warriors stand at attention, staring at you. The god's throne sits high on the opposite end, made from the thick branches of the golden tree Glasir. Heavy footsteps are heard from the ceiling of shields far above.
Blight Ideas: Rain of shields, those slain in battle refusing to stay dead, all that is golden forming into vile constructs.
Companion Ideas: The numerous slain, Valhalla's native Myths.
On the Bifröst
Only the stars above and the light shimmering off of the rainbow bridge contrast the utter darkness of night and space. Each ribbon of color is wide enough for a horse to stand. There is only the cool warmth of light, and endless darkness below.
Blight Ideas: stars falling from the sky, burning and vicious light, howling and grabbing abyss.
The Base of Yggdrasil
The roots that compose the ground extend for miles, hovering in nothingness. Far below you, the dragon Níðhöggr holds in the abyss and gnaws at the roots. Fierce winds carry the scent of old earth. Many portals to other worlds hang far above, like fruit waiting to be picked.
Blight Ideas: angry roots waking, the pull of nothingness grabbing at warriors, fiends summoned from the nine worlds.
Companion Idea: Níðhöggr, the eternal dragon.
M

ONSTERS

&

L

ESSER

M

YTHS

The monsters that roam Norden's lands are known as lesser Myths. Some are twisted and evil creatures of the forest, others are spirits that feed on mortalkind's terror, and even mortals sorcerers corrupted by power fill their ranks. Along with them are Myths of legend, such as the jötnar (frost and fire giants), einherjar (long-dead warriors), and servants to the gods like the valkyries.
Lesser Myths & Fighting Mythenders
Lesser Myths know that they will likely be Ended, for Mythenders are far more powerful than they. Still, they do not all take the same reaction or notion to that.
Some believe they will be remade by their masters, so their death is temporary. This is natural; Myths die all the time in Norden, and death is only as permanent as the gods wish. Such is why few understand the difference between death and being Ended—but there is no explaining their complete destruction to them.
Others know that their lives are forfeit upon sight of a Mythender, but they do their duty for their god. They know that this battle aids their god and Norden, and seek to drive a Mythender closer to Falling. Some do this because they see no reason to question. Others do this because to refuse is to have no honor—and one should never underestimate the lengths anyone, mortal or Myth, will do for honor.
And even more are purely mindless, such as the undead draugr (here) or Mythic dire wolves. There is no talking or reason—there is only hunting and death.
Using Lesser Myths
Stats
Lesser Myths have a Storm rating between 3 and 5, start with 2 to 4 Thunder die, and have a wound cost of 4. Their Wound tracks are the same as a Mythender's: 3-4-5. They start with 6 to 8 Might tokens and recharge 2 to 4 Might each turn.
The jötnar (here) are considered lesser Myths, but they're more powerful than most others. As such, they have higher ratings—good for experienced players or for adventures with more than one battle before reaching the god.
Weapons
Lesser Myths always have three Weapons. Choose from those listed. With rare exception, they us the standard charge boxes. For Intrinsic Weapons, the middle box (+2 dice) starts charged.
Companion Weapons
Many Lesser Myths come in hordes. They're usually their own Companion Weapon.
Some are servants of Greater Myths (page 218), which makes them great Companion Weapons for one (or even for a more powerful Lesser Myth). Some Myths already have ideas listed, but if one of these screams to be a servant for another, go for it!
Gifts
Lesser Myths have three or four Gifts, including upgrades.
Gathering Rage
Lesser Myths have Gathering Rage (here) triggers that set up future battles. The following are the standard ones, but feel free to switch them up. You might even shorten the number of rounds, though the last round remains the same: the battle being over.
After Round One

Lesser Myths have no Gathering Rage triggers from the first round of battle.

After Round Two

Create a new lasting Blight at the end of the battle.

After Round Three

Give the upcoming god an additional Weapon charge.

After Round Four

Give the upcoming god three more Thunder dice.

After Round Five

The battle is over

. Either the Lesser Myth (or what's left of it) escapes, dies on its own terms, or is spirited away by a Greater Myth or the Mythic World itself. Regardless, the ritual of battle has given the Myth more power. In the adventure's climatic battle, the god will have an additional Weapon box charged.
E

INHERJAR , THE

H

ONORED

D

EAD

Warriors that die on the field of battle, or are taken by the gods as living sacrifices, are brought to Valhalla. There they feast gluttonously on Mythic beast and mead, giving them immense strength and stamina. Each day they spar, honing their talents for the day that they are called upon to face a Mythender.

In battle, they rage. This is their sole purpose, and they are eager to fulfill it. Each warrior has faced and felt death so many times that they no longer fear destruction. Their food and drink dulls all sense of pain and heightens bloodlust. But they are not mindless; among them are captains and generals who still know the arts of war.

(By the way, the singular of "einherjar" is "einherji.")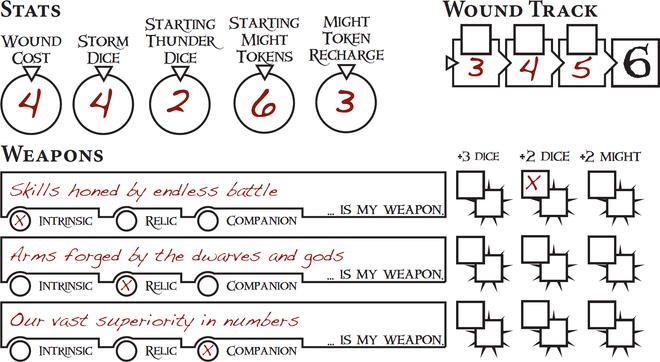 Gifts
Bloodlust

Grievous Harm

Practice Death

: If you've been Ended before every Mythender has had three actions in this battle, explain that you're using a Gift that is purely for the purposes of keeping the tutorial going. Give the Mythender who just Ended you 2 Might tokens, and then take 2 Thunder dice (which means you're still alive and the battle continues).

Relentlessness
Notes
Practice Death is a special gift for use with the Tutorial Battle chapter. If you're not playing the tutorial battle, strike it. Replace it with another Gift or upgrade, if you like.
V

ALKYRIES,

W

ARRIORS

B

EYOND

D

EATH

Beautiful war maidens fathered from the spirit of battle, valkyries serve the gods of Norden as warrior-psychopomps. They bring the slain to the gods Odin and Freyja, breathe life back into them, and forge them into living weapons. They are drillmasters of the einherjar, pushing them to become legends and rewarding them with carnal delights.

There are few mortals of Norden who could match valkyries in battle. They serve as flying cavalry, hurling endless spears from a distance, trampling those who close on them. They are each worthy commanders, masters of tactics and strategy.

It goes without saying that those slain by valkyries are afterward stolen by them, given life again in Valhalla and put to Mythic purpose.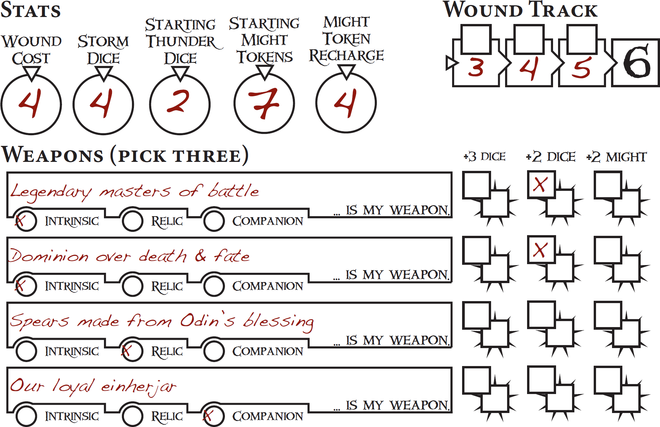 Gifts
Dual Wield

Grievous Harm

, with

Vicious

upgrade

Sureness
D

RAUGR , THE

V

ILE

D

EAD

Draugr are the corrupted dead that were once mortal rulers, twisted in the grave by spirits of wrathful avarice. They rose, keeping to their rotting bodies, and roam the lands to steal from the living. They are not content to steal just material things: loved ones, souls, and flesh are all fair game to the draugr.

Unlike other undead beings of legend, they are not mindless—they possess the memories of their former existence and the cunning of generals and kings. Death and decay follow them, and they know how to tap into that as superior strength and black magic.

Most of all, they seek to steal more Mythic power, and that draws them to Mythenders. These vile undead hate and steal from each other, but they will band together if Mythenders are near, for the chance to taste flesh and blood with vast Mythic power is too rich to ignore.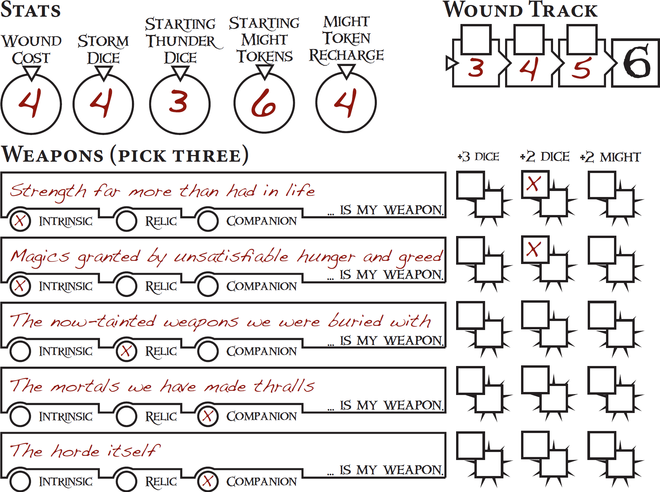 Gifts
Grievous Harm

Relentlessness

, with

Unrepentant

upgrade
S

ORCERERS,

C

ORRUPTED

M

ORTALS

Mythenders are not the only mortals to be given Mythic power. The gods and spirits of Mythic Norden seeks out mortals who have a lust for power and whose hearts will not resist temptation. These mortals are given tests of mind and will from tomes of hidden knowledge, and if they pass, they are granted untold power.

Sorcerers are often would-be warlords and kings, using their Mythic might to force mortals to obey them. The only difference between them and Norden's Myths made from fallen Mythenders is that they chose to embrace Corruption from the outset.

As emissaries of great power, each of their Weapons counts as Intrinsic, even if it's also a Relic or Companion (thus making them Greater Weapons). This is the boon Norden gives its sorcerers.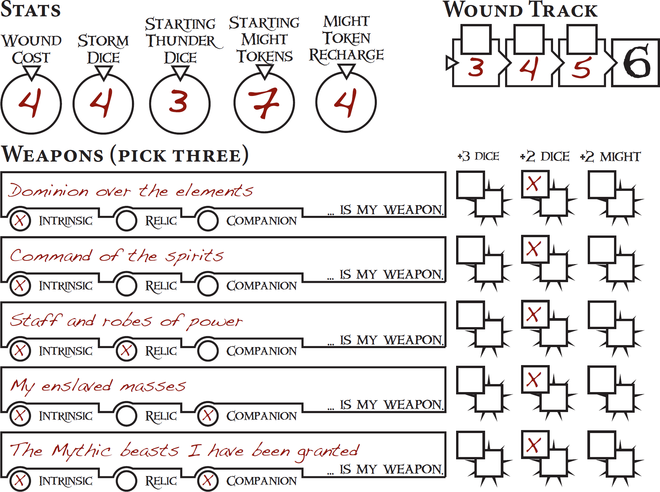 Gifts
Sorcerers vary greatly in power. Pick any four Gifts and upgrades.
J

Ö

TNAR , THE

G

IANTS

Giants forged from pure hatred and weather itself, the jötnar (singular: jötunn) are hideous masses. Half again as large as a man, each one is deformed in some way—claws and fangs, numerous limbs or heads, some not even resembling men at all. What is common is far greater strength than even their size would suggest and power over the weather spirits that birthed them.

Even though they are creations of Norden, the Mythic World goes to great lengths to keep them away from mortal lands, for they cannot be controlled. Some ally with Loki and his brood, others make their own kingdoms and march to war to prove that the Mythic World needs no mortals to survive.

The jötunn kingdoms are harsh and treacherous, even to their own kind. Only the strongest and most willful survive the journey into other lands. And each one believes itself capable of becoming a greater Myth, as Fenrir and Jörmungandr have, by having their blood spilled by a Mythender and spilling that Mythender's blood in return.

The two most common giants are of frost and of fire:
Frost Jötnar
Frost giants, who call themselves the hrimþursar, live in a valley of ice far beyond the mountains known to mortals. Their gray skin freezes any mortal flesh that it touches.
Eternal night covers the kingdom of frost. The only lights that shine are the stars and the moon, forever full. The frost jötnar claim to remember a time before the sun and the coming of mortals, when they ruled over all. They call this Fimbulvetr, the Age of Peace, and say their time will come again.
Fire Jötnar
Fire giants, also known as múspellsmegir, live in a land far below the surface, in the steaming bowels of the earth. Their skin looks like molten rock, and fire flares from them.
It is foretold that they will herald Ragnarök, the end of all the worlds. When they aren't training and plotting to burn the rest of Norden and usher in an age of fire, they send small bands up to the surface to raid for slaves, both mortal and Mythic.
Notes
Jötnar are more powerful than other lesser Myths, good for a longer game with multiple lesser Myth battles. Note that they have an Intrinsic/Companion Greater Weapon. Frost jötnar are more resilient, with their second Wound box also at 3. Fire jötnar have a stronger Weapon charge progression, starting with +4 dice.
Gifts
Jötnar have six gifts. Four standard ones are listed below. The other two may be filled in either before or during the battle, as per Greater Myths (here).
Bloodlust

Grievous Harm

Relentlessness

Swiftness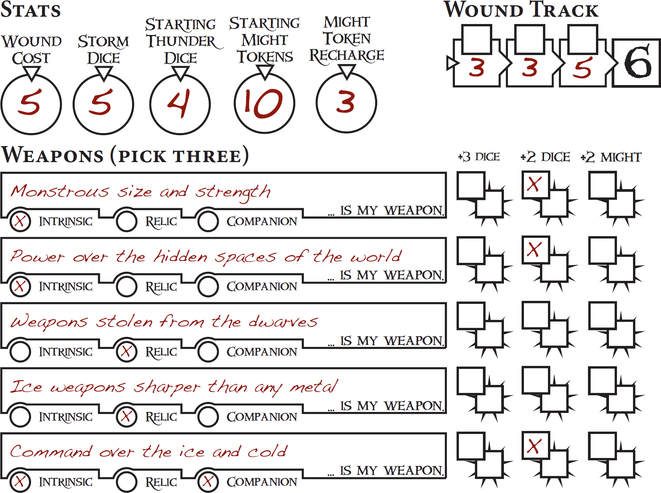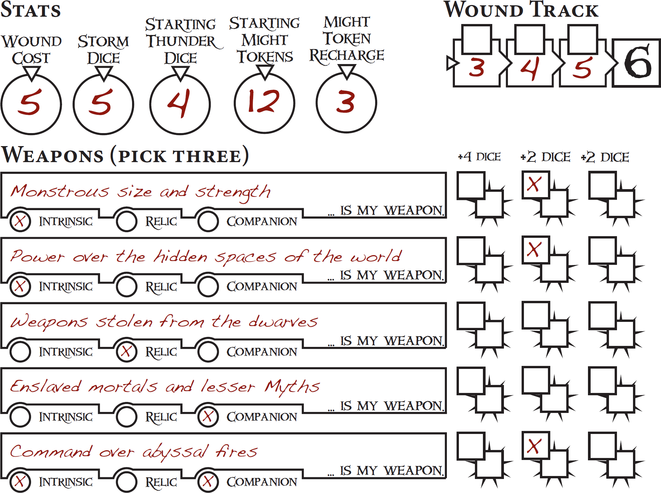 G

ODS

&

G

REATER

M

YTHS

The gods and their unique foes of legend make up the greater Myths. These foes should be the climax of an adventure. Each god embodies a concept in the Mythic World: Odin of order, Thor of war, Loki of chaos, Freyja of love, and so on.
Greater Myths & Fighting Mythenders
While each god has a specific personality and view of Mythenders, they have two general takes on fighting them. Both are equally megalomanic: they either are certain of their victory, or know that while they may be destroyed, they'll be reborn when a Mythender becomes a Myth from this battle.
Given that nearly every greater Myth was once a Mythender who defeated a god but failed to fight off Norden's embrace, there's truth in this. There have been many Odins, Thors, Lokis, Jörmungandrs, and so on.
Those that speak to Mythenders will mock the futility of Ending them, sometimes as a villainous prologue to the battle. Those that don't will just get their vicious attack on.
Using Greater Myths
Stats
Greater Myths greatly vary in their Storm rating, starting Thunder dice, Wound cost and track, starting Might and Might recharging. The main similarity is that they all have five Wound boxes.
Weapon Charge Boxes
Greater Myths have four Weapons, and will typically sunder one in battle for power (here). Choose from those listed.
The gods listed here have different charge boxes: +4 dice, +2 dice, +2 dice. Note that the second and third are the same, and there's no Might bonus. Other gods may have different ones. Regardless, there are always only three charge boxes, and the middle one starts charged with Intrinsic Weapons.
If Lesser Myths have escaped, you may charge more Weapon boxes as per their escape.
Greater Myths often have Greater Weapons, mixing two Weapon types—for instance, combining a Relic and Companion—and giving those Weapons access to both rules. No Weapon uses all three. That's just crazy talk. (See here for more on Greater Weapons.)
Companion Weapons
Most write-ups suggest Companions, but also consider using the lesser Myths you've thrown at the Mythenders, or taking inspiration from the set for this climatic battle.
Gifts
Greater Myths have seven to ten Gifts, including upgrades. They may have two or three slots open; you may fill in one per round.
Screwing With This
Greater Myths change over time, especially when one's been Ended and a Mythender takes its place. Feel free to twist the stats on a god and how that god views Mythenders.
Gathering Rage
Greater Myths have Gathering Rage (here) triggers that directly affect this battle, as it is constantly gathering power from Norden. The following are the standard ones, but feel free to switch them up. Beware of shortening the rounds, as that makes the battle much, much more dangerous.
Some Greater Myths detail changes to this.
After Round One

Allow sundering of a Weapon.

After Round Two

Create or charge a Blight.

After Round Three

Gain 5 Thunder dice.

After Round Four

Gain 10 Lightning tokens.

After Round Five

The Mythenders die

. The battle is over. The god has had time to gather enough power from Norden to end the would-be Enders of Myth. The Mythenders are all slain and denied the Choice to return. The game is over.
Greater Myths & Difficulty
Each of these Greater Myths listed vary in difficulty.
Thor (here) is the most "basic" of the gods. He's designed to be the first god a Mythender Ends, a good choice for people new to playing Mythender. If you wish to have such players face off against a different god, consider using Thor's stats and Gifts, and just rename the god and change the Weapons accordingly.
Odin (here) is very tough and straightforward, compared to some of the other gods. He's built to brawl and survive, constantly gathering Thunder dice. Mythenders will be hardpressed to beat Odin without dipping deep in Mythic Power and doing Titanic actions.
Freyja (here) is a difficult and tricky god, as she constantly pushes the Mythender's Corruption by simply existing near them. This is a god suitable for players who have prior experience battling gods in Mythender, because they'll need to End her quickly if they want to avoid apotheosis.
Loki (here) is similar to Odin in power, and more resilient—he has a harder Wound track. That means Mythenders will need to gather more and more Lightning in order to beat him quickly.
Jörmungandr (here) is possibly the hardest of Greater Myths. It constantly Wounds the Mythenders in a tide of its poisonous blood and it has a shorter duration before it outright slaughters them.
Fenrir (here) is on par with Jörmungandr. It can use the Grievous Harm Gift for free, making it a formidable opponent.
T

HOR ,

G

OD OF

T

HUNDER &

W

AR

Thor, the god of thunder and war, is the self-proclaimed protector of all mortalkind. His command over Norden's constant storms gives him dominion over the entire land, and the fear and awe those storms inspire in mortals in turn gives him limitless might.

His legendary hammer Mjölnir holds one piece of Norden's true heart. Megingjörð, the Belt of Strength, gives him the power to lift and hurl even mountains. And his massive and vile goats, Tanngrisnir and Tanngnóstr, carry Thor's massive chariot and fight along with him, using their sharpened hooves to trample and razor teeth to shred.

Thor is the master and commander over much of Norden's martial forces: the valkyries and the einherjar, due not only to being Odin Allfather's son, but to his skills as a tactician and in single combat. Because of this, the mortal warriors revere Thor and seek to join him in death. He has forged dozens of warrior cults among mortalkind, taking the best as his own personal Thunder Guard—fusing the essence of lightning into their souls, creating beings that rival the jötnar. Few taste this honor, and fewer still are worthy enough to survive the rite. Still, Thor has many more beings in his service, notably valkyries and einherjar.

To Thor, Mythenders are the rare worthy challenge he deserves. He embraces battle with this happily—either he will best them and prove his might, or he will fall, but in doing so drive a Mythender to become him, making the next Thor more powerful than the last.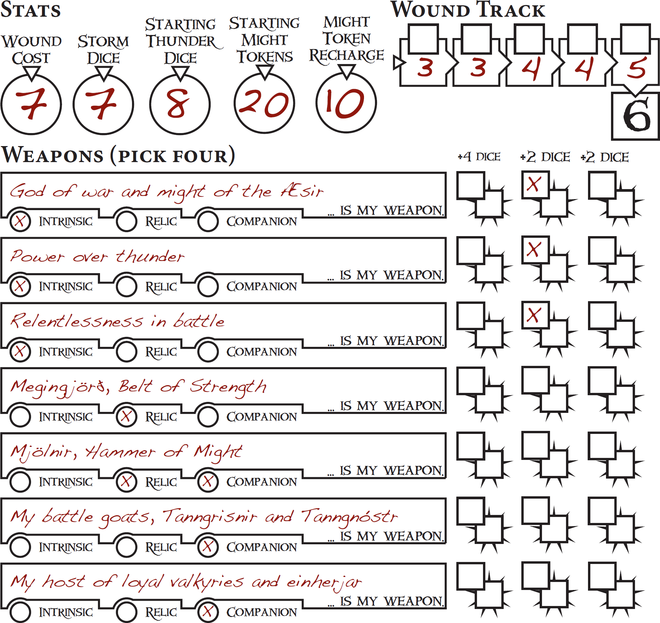 Gathering Rage
After Round One

Allow sundering of a Weapon.

After Round Two

Create or charge a Blight.

After Round Three

Gain 5 Thunder dice.

After Round Four

Gain 10 Lightning tokens.

After Round Five

The Mythenders die

.
Gifts
Bloodlust

Grievous Harm

, with

Precise

upgrade

One More Breath

Relentlessness

Sureness

, with

Quick

upgrade

Swiftness

Vicious Denial
O

DIN

A

LLFATHER

Also known as Odin the All-Wise and Odin One-Eye, he is the king of Æsir—the gods that reflect the half of Norden that embodies order. As he is most revered among all the gods in Norden, Odin is the wisest and commands the most powerful magics.

Odin travels around the land on his eight-legged warhorse, Sleipnir. His spear Gungnir is imbued with the spirit of flight and truth, and will never miss its target. Chief among his many Mythic animal companions are his ravens Huginn and Muninn (the very essence of thought and memory in all Norden) and his wolves Geri and Freki (the twin spirits of hunger and need).

He has fathered many sons, most of whom are lesser Myths and half-mortal abominations. A rare few rise to the stature of god, most notably Thor. Odin also commands one half of all einherjar, many valkyries, and all other beings of Myth allied to Norden's spirits of order.

To Odin, Mythenders are part of the natural order—that of cleansing destruction. But that Mythenders would go after any of the Æsir is unnatural, a clear sign that the forces of chaos have perverted Norden's need to purge. This perversion must be corrected, and will be when the Mythenders fall into Norden's embrace.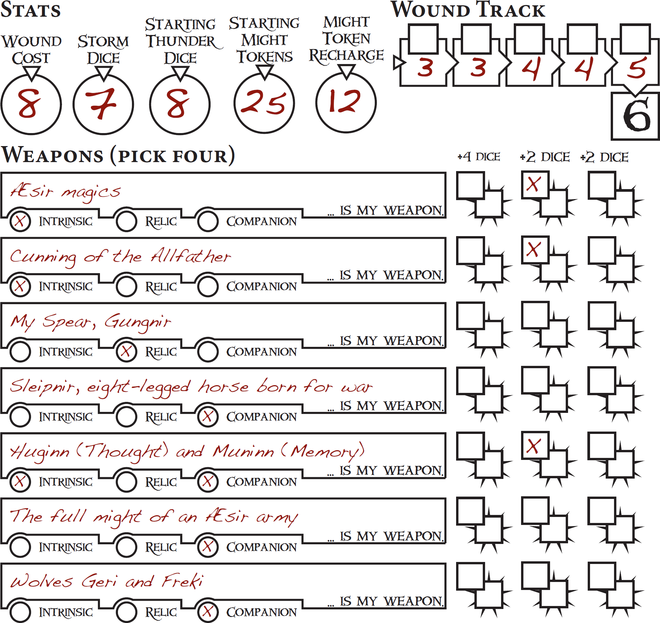 Gathering Rage
After Round One

Allow sundering of a Weapon.

After Round Two

Create or charge a Blight.

After Round Three

Gain 5 Thunder dice.

After Round Four

Gain 10 Lightning tokens.

After Round Five

The Mythenders die

.
Gifts
As god above all in Norden, Odin has every Gift at its base level (except those only permitted to Mythenders). In addition, he has the following upgrades:
Harbinger of Storm

's

Surging

upgrade

Sureness

's

Quick

upgrade

Swiftness

's

Quick

upgrade
F

REYJA,

G

ODDESS OF

M

OTHERHOOD

&

L

UST

Freyja is the goddess of love, beauty, fertility, life, war, and death. She is the womb of Norden, the spirit of life-that-is and life-that-must-be. She is queen of the Vanir, those gods of Norden who rule over the spirits of growth and prosperity.

She is never without her host of utterly devoted thralls. Freyja lays claim to half of the einherjar, has her own valkyries, and every mortal and creature that lays eyes on her beauty falls in love and unquestioning devotion. They walk alongside her cat-drawn chariot or her war-boar Hildisvíni. Her necklace Brísingamen has the power to make hearts feel greed for it and mistrust of their fellows.

Freyja takes many forms, and will appear as the Mythenders' mothers, lovers, and unrequited desires. She assaults their will with soothing words and tempting urges, eroding will not from the outside with blades, but the inside with needs and hope.

To Freyja, Mythenders are violent wayward children to be corrected with motherly love and new would-be lovers to train. She does not seek to destroy them, and indeed she does not fight. Her Mythic love radiates inside of them with her mere presence. But she is not powerless; her thralls accompany her to be shields and spears.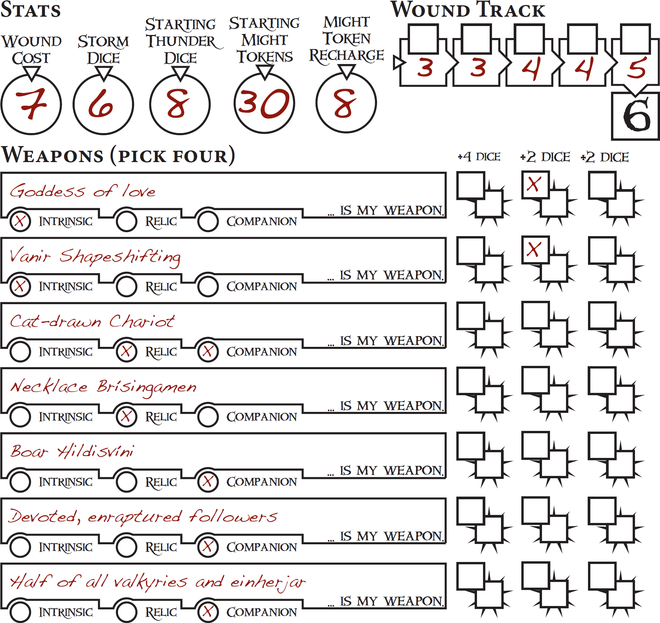 Gathering Rage
After Round One

Push Mythender Corruption and allow sundering of a Weapon.

After Round Two

Push Mythender Corruption and create or charge a Blight.

After Round Three

Push Mythender Corruption and gain 5 Thunder dice.

After Round Four

Push Mythender Corruption and gain 10 Lightning tokens.

After Round Five

The Mythenders fall

if all Corruption boxes are checked,

otherwise die

.
Gifts
Building Doom

Grievous Harm

, with

Precise

upgrade

Harbinger of Storm

's

Surging

upgrade

Indestructible Nature

One More Breath

Relentlessness

Sureness

Swiftness

and one more Gift
L

OKI,

G

OD OF THE

W

ILD

Loki is nothing less than Norden's spirit of all that is wild, and as such is not bound to form or nature. He is the master, and perhaps mother, of all magic in the land. Through his loins he forges many of Norden's untamable beasts: notably Jörmungandr and Fenrir.

He detests direct, formal conflict, for that is not the way of nature. Chaos is all around us, randomly killing or freeing, ambushing or giving boon. Such is Loki and his magic. Though he has jötunn blood, he appears however he wishes—sometimes as an old man, sometimes as an animal, but often as someone kin to Odin and his sons. Thus he is the embodiment of guile and deceit.

Loki has few possessions of his own, as he is far more delighted to steal something precious from another god before Mythenders approach. To see Loki with Thor's Mjölnir or Odin's Gungnir would not be surprising. However, he is more than capable with his own magics alone; the Relics of others are never because he needs them, simply for a devilish laugh.

To Loki, Mythenders are a delight and strange kin. For as long as they hold their mortal and Mythic nature in balance, they are truly wild—beings that are not yet tamed by either side. But that they will one day be tamed, by power or death, they are not true kin. Still, he sighs in a way that an artist would at being presented a majestic painting he must then destroy.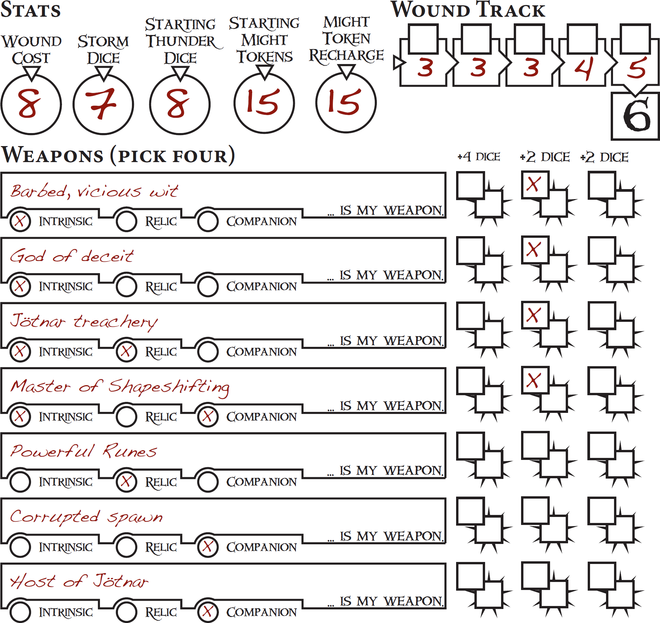 Gathering Rage
After Round One

Allow sundering of a Weapon.

After Round Two

Create or charge a Blight.

After Round Three

Gain 5 Thunder dice.

After Round Four

Gain 10 Lightning tokens.

After Round Five

The Mythenders die

.
Gifts
Dual Wield

Fast Strike

Grievous Harm

, with

Quick

upgrade

Indestructible Nature

One More Breath

Relentlessness

Swiftness

and two more Gifts
J

Ö

RMUNGANDR , THE

W

ORLD

S

ERPENT

The serpent that loops around the world, Jörmungandr is the deadliest of the greater Myths. Its Mythic blood is poison even to all else in Norden, for everything that the Mythic World found too dangerous to touch and too powerful to destroy found its way onto this immense serpent.

Jörmungandr is Norden's spirit of purity, although one that very few even among the gods understand. It stands alone in battle, having no one fight alongside it save for the sea that contains its blood. It speaks no language out of choice, as all words are impure. If one cannot decipher its intent and desire through its actions, then they are of no consequence.

Born from the witch-jötunn Angrboða and fathered by Loki, the world serpent is one of the rare jötunn-spawn that Norden has blessed with apotheosis. It keeps no legendary trinkets as the Æsir gods do; the Weapons it possesses all come from within.

To Jörmungandr, Mythenders are like everything else in the world: impure. Its blood will wash away all that is unrighteous—and if anything remains, it will join the might that is the World Serpent.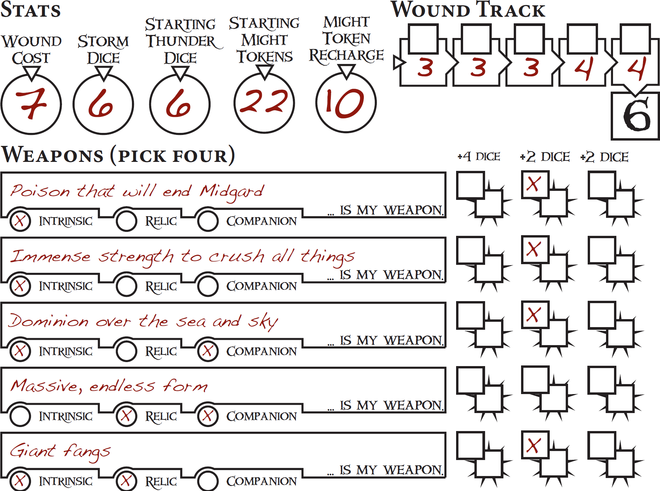 Gathering Rage
After Round One

Allow sundering of a Weapon.

After Round Two

Wound Mythenders.

After Round Three

Wound Mythenders and gain 5 Thunder dice.

After Round Four

The Mythenders die

. (Yes, this happens at round four, not five.)
Gifts
Dual Wield

Fast Strike

Grievous Harm

, with

Quick

and

Vicious

upgrades

Harbinger of Storm

's

Surging

upgrade

One More Breath

Relentlessness

, with

Unrepentant

upgrade

Swiftness

, with

Quick

upgrade

Vicious Denial
F

ENRIR , THE

U

NSTOPPABLE

W

OLF

Fenrir was one of the earliest Mythenders, before transforming into Norden's spirit of destruction. He then became a creature born of Loki and the witch-jötunn Angrboða, sibling to Jörmungandr. He is a massive wolf, easily as large as a castle, with ancient gray hairs peppering his otherwise brown coat.

Fenrir Ended the god Týr, the god of heroism and glory, savagely dominating him even as he transformed into the wolf he is now. At the very end, he bit down on Týr's sword-hand and swallowed it whole—gauntlet and sword included—taking in that Mythic essence and bonding with it. He sometimes confronts challengers with Týr's sword wielded in his mouth.

No one in Norden hates as Fenrir does—Norden created him to house its spirit of hatred. He kept his mortal anger at gods and Norden, holds contempt for mortals who lack the power and will to be their own beings, at nature and the world for being an imperfect vessel, and at himself for failing to be invulnerable to Mythic Corruption.

To Fenrir, Mythenders are Norden's great cosmic joke. He has all of the memories of each Mythender who has come before him, all of them corrupted and turned into Fenrir just as the first one was. But he does not laugh at them for their part in this farce; he saves his rage for the rest of creation, and just wishes battle with Mythenders to be over quickly, so he may go back to his revenge.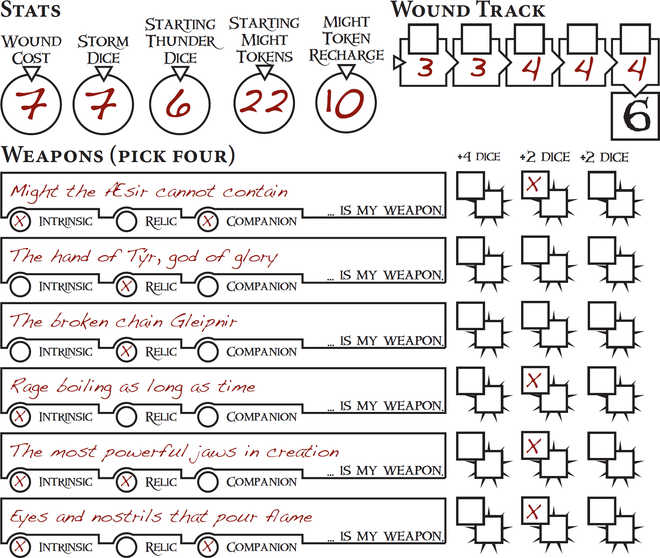 Gathering Rage
After Round One

Allow sundering of a Weapon.

After Round Two

Create or charge a Blight.

After Round Three

Gain 5 Thunder dice.

After Round Four

Gain 10 Lightning tokens.

After Round Five

The Mythenders die

.
Gifts
Building Doom

Dual Wield

Grievous Harm, with

Natural

and

Vicious

upgrades

Harbinger of Storm

's

Surging

upgrade

One More Breath

Relentlessness

Swiftness
Notes
The Natural upgrade for Grievous Harm listed above is a special upgrade, allowing Fenrir to use that Gift's base power for free.
C

REATING

Y

OUR

O

WN

M

YTHS

There are many other ideas for foes in from Old Norse folklore: the elves, both light and dark; dwarves; witches; various creatures and spirits of the forest; etc. You could even branch out, making a sorcerer-king a foe, along with his army of clay warriors. If you can think of a good fight, you have a foe worthy of Ending.

You can do some basic research on Wikipedia or great and well-researched roleplaying games and supplements (the various GURPS source books are fantastic for this). Or you can take inspiration from media and make "the dragon like from the Beowulf film." Whatever works for you and your game.

The first step to making a new Myth is to just reskin one of the existing ones. Take for instance the einherjar for a Lesser Myth or Thor for a Greater Myth. Then change the name and description, and come up with Weapons appropriate to that new Myth. (Always have at least two different types of Weapons. No Myth should have all of one type.)
Iconic Myths
If you're making a Greater Myth, make it an iconic being. It's one thing to kill a dragon or a few dragons, but going after The Dragon—the very concept of what a dragon is—is pretty metal. Or take an idea, like the God of Hatred, and build a Myth around that.
Making Myths More Powerful
You might want to turn one of the Myths in this chapter up to eleven. Do so by changing their Weapon bonuses or adding more Gifts, including empty Gift slots it has to fill in during the battle.
Maybe your Thor is more extreme. Make all of his Weapons also Intrinsic, giving them the extra charge box. But also describe how he's different, like maybe it's physically made of pure lightning itself in the shape of a man rather than a god that merely commands and spiritually embodies lightning.
Once you've played Mythender some, tweak the numbers. Raising starting Thunder gives it a jump ahead on Wounding the Mythenders and possibly extends their life. Raising Storm will mean that every turn it's alive, it'll build up more Thunder; that makes for a more dangerous Myth than raising starting Thunder.
Raising the starting Might gives a Myth more options early in the battle, and raising the Might recharge gives it more options on later turns. Naturally, that depends on the Gifts a Myth has, and the more varied the Gifts, the more ways the Myth can fuck up the Mythenders' day.
Myths from Other Places
Mythic Norden is a powerful Mythic World, one that has lasted for some time. Other Myths may have taken refuge in Norden after their Worlds were Ended. It would be weird to have some djinn or Quezecoatal in Norden, but that sort of weirdness is totally in keeping with the surreality of Mythic Worlds. Also, it's plain fucking cool.
T

HORBERGE: A

N

ORDEN

A

DVENTURE

The Mythenders are traveling to the Fort of Thorberge to end Thor. This adventure uses a short structure and is great for people new to playing Mythender.
Introduction
Take the snow-covered plains set (here) and tweak it to be about a mountainside, high up where the peak—and the fort—are just barely visible. The storm clouds above crackle. The Mythenders know that they are here to hunt Thor, and that the fort nearby is strongly connected to him.
Mythmaster's Time: Battle with Einherjar (Tutorial)
A host of einherjar, numbering in the hundreds, emerges from the clouds, the ground, mists—describe their introduction and what the battlefield looks like.
They will first shout at the Mythenders, telling them to go elsewhere, that there are ignoble gods to be slain. Jörmungandr is in the sea to the west, and surely he is worthy of their attention. (Of course, this shouldn't sway the characters one bit. It's simple posturing.)
Either the Mythenders will declare that they're engaging or you will for the einherjar. Remember that, regardless of color, the Myth always gets the first action. Use the Tutorial Battle chapter (here) unless everyone is familiar with playing the game.
At the end of the battle, turn the most destructive Blight or one perilous to mortals into a lasting Blight, per the einherjar's Gathering Rage.
Mythender's Time: Mortal Interlude
The Mythenders arrive at Thorberge. Many mortals are already outside, on their knees, bowing and sobbing. The priests are inside, refusing to bow to anyone other than Thor, and cowering in their temple.
The Blight should be making life hell for the mortals. These people love and praise Thor, and will plea with the Mythenders to turn away.
Once you've painted this picture, ask each Mythender: "what do you do?" You may need to remind them about seeking sympathy, terrorizing mortals for power, and doing epic, badass feats. (See the Moments Quick Reference.)
Mythmaster's Time: Climatic Battle with Thor
Once everyone gets a chance to do one thing, Thor arrives. The Mythenders are taken into the clouds for this battle (use the in the clouds set). Choose four Weapons for Thor, and use them to describe the impending battle.
Thor may taunt the Mythenders, explaining their futility because he will only be reborn from one of their souls when this is over. This should be brief, and then if the characters haven't already, Thor will launch into battle. Again, regardless of color, the Myth always gets the first action.
Epilogue
With Thor ended, the Mythenders watch as the people react. If any terrorized for power, then the mortals now worship them. If not, they are thankful for their newfound freedom.